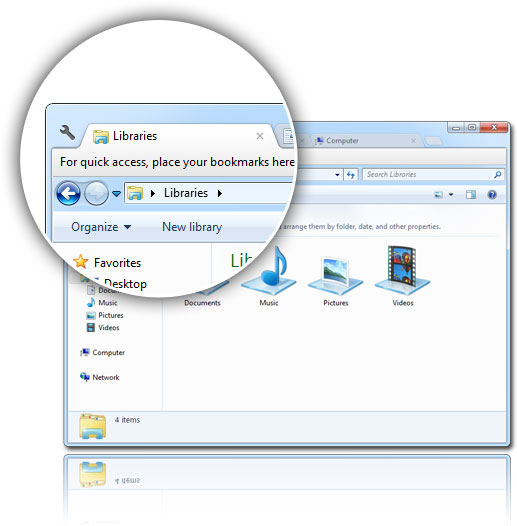 Clover 3
Wings for your Windows Explorer!
Clover is an extension of the Windows Explorer, to add multi-tab functionality similar to Google Chrome browser. After install Clover, you will be able to open multiple folders within the same window, and you can also add folder bookmarks.

Version:
3.5.4
Requirements:
Windows XP / Windows 7 / Windows 8 / Windows 10
Language:
English / 简体中文 / 繁體中文 / 日本語 / Français / Español / Russian / Deutsch / Nederlands / Português
Convenient Tab page
Just remember that Ctrl + T to open the page, and Ctrl + W to close the page, Ctrl + Tab to switch pages, the work efficiency far more than doubled!
Seamless integration with operating system
Clover was integrated into Windows Explorer, to keep your usual habits, without having to learn new file management operation.
Lightning-fast bookmarks bar
Press Ctrl + D to bookmark the current path, or drag the folder into the bookmarks bar. No need to look for the folder around, instant reach, how happy!
3.5.4 update (2020-04-16)
Added: Separate label switch, need to set without separation.
Solved: Some problems such as Win10 cannot be closed.
Fix: Other bug fixes.
3.5.2 update (2019-08-12)
Fix: XP SP3 does not open properly.
Fix: WIN10 high score screen bug.
Fix: Other known bugs.
3.5.1 update (2019-07-19)
Fix: Window non-response under partial operation.
Fix: Label overlap problem under high score screen.
Fix: Occasional invalidation of shortcut keys.
3.5.0 update (2019-07-01)
Fixed:Blurry display on high DPI.
Fixed:Window dislocation under high split screen.
Fixed:Partial bug fixes.
3.4.7 update (2019-05-13)
Improved:Window separation function when switching.
Fixed:On above two monitors,Clover tabs and size were broken.
Fixed:Clover had been updated always.
3.4.6 update (2018-08-13)
Added: Cancel Associated Clover Entry.
Fixed:Window separation when switching.
3.4.5 update (2018-07-23)
Fixed: Clover crash on Win10.
Fixed:Bug about logging in.
3.4.4 update (2018-07-13)
Added: Entrance of canceling associate Clover.
Fixed: Clover windows seperate when switching lables.
Fixed:Several processes activated sometimes.
3.4.3 update (2018-04-10)
Added: CTRL+K to duplicate tabs.
Fixed: fail to export bookmarks.
Fixed:explorer breakdown.
3.4.2 update (2018-02-28)
Added: User feedback entrance.
Improved:Blurry display on high DPI.
Fixed:Other known bugs.
3.4.1 update (2018-01-31)
Improved:Blurry display on high DPI.
Fixed:VIP members recieve ads.
Fixed:Other known bugs.
3.3.9 update (2017-09-26)
Improved:Bookmark management interface.
Fixed:Crash occurs when renaming bookmark.
Fixed:Abnormal display of some icons.
3.3.8 update (2017-08-11)
Improved:clover's start-up speed.
Fixed:False positives announced by software steward.
Fixed:Bookmark crashes occur in Win 10 system.
3.3.7 update (2017-07-06)
New Function:Open bookmarks in new windows.
Improved:Realize login function through the return key.
Fixed:Fail to add bookmark through dragging file/folder.
Fixed:Unexpected crashes occur after dragging bookmarks.
3.3.6 update (2017-06-13)
Improved:Add Bookmark Manager function.
Fixed:Bookmark icon get abnormal.
Fixed:User login program exception.
3.3.5 update (2017-05-12)
Improved:Login window interface optimization.
Improved:Set the window added shortcut key module.
Fixed:Copy tag failure.
Fixed:Support Windows server2012.
3.3.4 update (2017-04-18)
Improved:TabHepler optimization problem Caton.
Fixed:Add URL bookmark exception.
Fixed:Loss of key shortcuts.
3.3.3 update (2017-04-11)
Improved:VIP member experience.
Improved:Member points conversion function.
Fixed:Member login information abnormal.
3.3.2 update (2017-03-10)
Improved:System shortcut key function optimization.
IFixed:Unable to copy and paste the file.
IFixed:Folder name display exception.
IFixed:Double click the blank not on a return.
3.3.1 update (2017-03-01)
Improved: The tab bar menu operation.
Improved: The tab drag function optimization.
Improved: Optimized window folder display.
Fixed: Update packet detect update exception.
3.2.9 update (2017-02-14)
Fixed: Logon Defects.
Fixed: Not compatible with office2016.
Fixed: Drag the page bookmark to open the tab page error.
3.2.7 update (2017-01-19)
New Function: User account system.
New Function: VIP system, VIP can enjoy the advertising experience.
Improved: Improved:Open the bookmark in the current browser.
Fixed: Crash problems caused by large import / export bookmarks.
3.2.5 update (2016-12-13)
New Function:Bottom status bar.
Improved:Optimize compatibility and improve stability.
Improved:Open the bookmark in the current browser.
Fixed:Unplug the USB disk and the tab page will be blank.
Fixed:WinXP,can not display the preview widget when drag the tab to splitting / merging the window.
3.2.2 update (2016-11-17)
New Function:Display the preview widget when drag the tab to splitting / merging the window.
New Function:"Clover"Button RBI statistics and background.
Fixed:The bookmark bar shows blank bars and partially obscured.
Fixed:Copy the tabbed page that opens from the Bookmark bar to display a blank page.
Fixed:Shortcut "Ctrl + Shift + T" to open the closed tab page sequence error.
Fixed:When the focus is not on the tab bar, the shortcut key "Ctrl + B" is invalid.
3.2.0 update (2016-10-20)
New Function:Copy tab page.
New Function:Ctrl+B"Show or hide the bookmarks bar.
Improved:Improve the right-click tab menu.
Improved:Replace the upgrade UI and enable the detection update mechanism.
Fixed:Defects due to system compatibility.
3.1.8 update (2016-10-11)
New Function:Drag tab to split and merge windows
Improved:Simplify "About Clover"pop interface, remove duplicate invalid keys
Improved: Crash problem caused by system compatibility
Fixed:Unable to use shortcut keys "Ctrl+Shift+T" to open the closed tabs continuously
3.1.5 update (2016-09-07)
New Function:Keyboard Shortcuts "Ctrl+N", Open a new Clover window.
New Function:Keyboard Shortcuts "Ctrl+Shift+T",Re-open last closed tab.
New Function:Prompt before exit (close tabs)
Improved: The translation of multi language version
Fixed:Crash problem caused by the delete bookmark
3.1.3 update (2016-08-26)
New Function: Drag files / folders to move between tags and Tags
New Function: Drag files / folders to bookmarks
Improved: Multi language translation
Fixed: WinXP, Double click the icon appears two clover window
Fixed: Win7, After the installation is complete, the start menu in the presence of two shortcut icon
3.1.2 update (2016-08-12)
New Function:Setting - Other(New tab page when you click the mouse wheel、Double-click on folders in the blank space to the upper directory、Double-click on the tag title when closing the current Tab、Use the mouse wheel on the tab bar to switch tabs.)
New Function:Setting - Bookmark Manager(Import bookmarks from HTML file、Export bookmarks to HTML file)
Fixed:New Function:Multi language version(Support:English / 简体中文 / 繁體中文 / 日本語 / Français / Español / Russian / Deutsch / Nederlands / Português)
Improved: Crash problem caused by system compatibility
Fixed:Cancel check "display bookmarks bar", re start the bookmark bar is still displayed
3.1.1 update (2016-07-27)
Improved: Code refactoring
Fixed:The collapse problem caused by the compatibility of Win8 system
Fixed:The collapse problem caused by the compatibility of Win10 system
Fixed: Exit exception problem of WinXP SP2 system
3.0.406 update (2014-01-26)
Improved: Speed up new tab creating
Improved: Better color for UI elements and Tab strip in case of high contrast and black themes
Fixed: In Windows 8.1, IME candidate box not shown
Fixed: In Windows 8.1, preview windows not shown
Fixed: In Windows 8, sometimes Ribbon bar not shown
Fixed: Few other bugs fixed...
3.0.386 update (2013-08-12)
New: Setting for mouse wheel to switch tabs
Improved: The shortcut in bookmark bar can support parameters now
Fixed: Right Ctrl + L can jump to address bar now
Fixed: Windows 8 Ribbon bar lost
Fixed: Explorer crashed at Clover exit
Fixed: Double click can close inactivate tab now
Fixed: Few other bugs fixed...
Q: Does Clover support Windows2000 System?
A: Clover currently only supports Windows XP and later versions of Windows (32bit/64bit), and support the most common languages ​​such as English and Chinese.
Q: When installing Clover, 360 security guards prompt regsvr32 process to install the browser plug-in software security?
A: Clover was a Windows Explorer plug-ins integrated into the system, and external opened Explorer window was automatically hosted into Clover window. The Clover program does not get any message of the user.
Q: Is "Clover" free?
A: Yes, "Clover" is Freeware.
If you use "Clover" in a commercial environment and find it useful a donation would be appreciated.
Q: Newly opened Windows Explorer was not hosted by Clover, what's the cause?
A: Some users use optimization software to disable the TabHelper plug-in, this will result in such a result, open IE's "Manage Add-ons" menu, look into "ExplorerWatcher class", re-enable TabHelper to solve issue.
Q: ExplorerWatcher was enabled, but newly opened Windows Explorer was still not hosted by Clover?
A: Please look into the registry setting to check if your Browser Extensions were disabled.
[HKEY_CURRENT_USER\Software\Microsoft\Internet Explorer\Main]
"Enable Browser Extensions"="yes"
Q: Would You make Clover opensource?
A: Many users asked for making it opensource. It will be not for now because:
1. Code is hastily written, and it has a lot of problems.
2. Long-term plans are not yet fully developed.
3. Clover hasn't yet built up the brand-strength to prevent copying.
Q: How to change the explorer icon back to its original icon?
A: Some people don't like Clover icon, someones do like. So I don't change it before I find a better one, ore someone create more beautiful one.
Mr. 3man and nick give a pretty ico for Clover, click to download: (by 3man) (by nick). You can replace the shortcut icon here:
C:\Users\YOUR_USERNAME\AppData\Roaming\Microsoft\Internet Explorer\Quick Launch\User Pinned\TaskBar\Clover.lnk
Security and Awards